Why not worry about Trump's victory
Africa after the Trump victory: between joy and horror
Had it been up to the residents of Barack Obama's Kenyan grandmother's home region, Hillary Clinton would have clearly won the US election. A few hundred Kenyans voted at a public happening on Tuesday about who they think should move into the White House - Clinton received more than 90 percent of the vote.
In 2008 and 2012, Barack Obama first won the fun vote in Kenya and then won the US presidential election. This year, the Kenyans' forecast did not come true. With Donald Trump, a man is moving into the White House who is viewed with skepticism by many Africans beyond the Obama's home region.
Trump wants to lock up Mugabe and Museveni
During his election campaign, Trump announced that Zimbabwe's long-term ruler Robert Mugabe and Uganda's President Yoweri Museveni would be personally behind bars. Mugabe countered that Trump was the grandson of Adolf Hitler. Museveni does not seem to want to put any more salt on his wound after the election victory: "I congratulate Donald Trump on his election as US president. I look forward to working with him, as I did with his predecessors," writes Uganda President on Twitter.
In any case, fear does not seem to teach Donald Trump to Africa's power-hungry rulers: Burundi's controversial President Pierre Nkurunziza was one of the first to congratulate him. "In the name of all Burundians, we congratulate you warmly. Your victory is the victory of all Americans," tweeted Nkurunziza, against whose regime the United States, among others, have imposed sanctions.
Outrage in South Africa
Trump had tweeted about South Africa that the country was torn and a hotbed of crime. Many South Africans reacted with horror to his victory. "I am shocked that Americans are electing someone like him to be their president," says Jabu Ndlovu from Durban. "He's a racist, he doesn't like anyone and calls us a failed state."
The South African government expresses itself more diplomatically and politely congratulates Trump on his election victory: "I look forward to working with the newly elected President Donald Trump and building on the close ties that exist between our two countries," said South African President Jacob Zuma, the just have to fear for his own office.
Much praise for American democracy
The well-wishers also include the presidents of Kenya, Ghana, Gabon, Rwanda and Nigeria. The Tanzanian President John Pombe Magufulit tweeted: "I guarantee you continued cooperation and friendship." Not only the president, but also the people of Tanzania are following the outcome of the US election with excitement - but also concern. Within the first 15 minutes after the election victory was announced, DW's Kiswahili editorial team had more than 500 reactions on Facebook. "I am worried about the future of the African countries and the African-Americans in the USA, because Trump's politics are not exactly positive for them," writes Tanzanian Adam Ayo.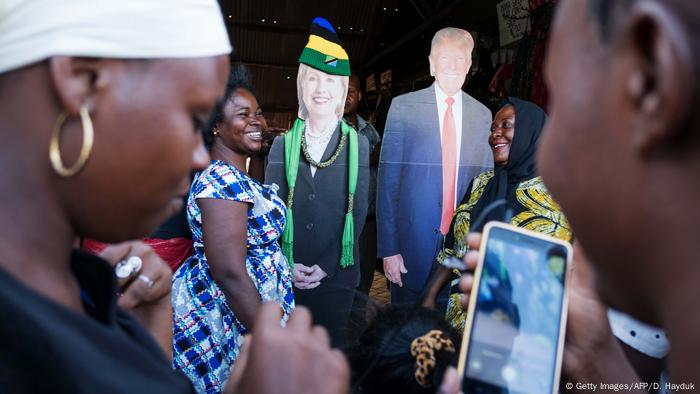 Many Tanzanians celebrate the US election as a victory for democracy
Like Ayo, many of his compatriots had hoped Clinton would win. On Facebook, however, they emphasize that the election is a prime example of functioning democracy: "I take my hat off to Hillary Clinton. She is patriotic enough to accept the election result. That is true democracy," writes Methord Augustino.
This opinion is shared by DW users in Francophone Africa: "The USA at least respects the right to vote. Voters are free to express themselves - not like in Africa, where you know the winner before the election takes place," writes patient Paul Ngoyi from the Democratic Republic of the Congo on Facebook.
Joy of crashing dollars
The Haussa-speaking DW users, the majority of whom come from the Muslim north of Nigeria, had clearly rejected Trump's anti-Islamic course on Facebook in the run-up to the election. But they too are now politely congratulating. "It's not what we wanted, but we have no choice but to accept our fate," writes Ibrahim Karaye from Kano.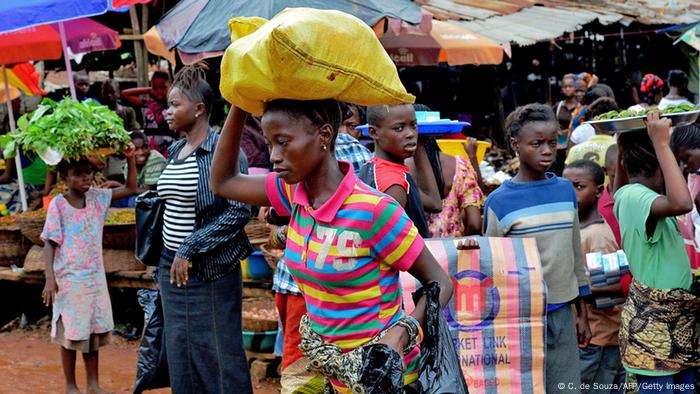 Hopefully a weaker dollar could help ordinary people in Nigeria
Others, such as Atiku Dan Yarabawa Barbarejo, who lives in Ghana, see positive effects for Africa: "We welcome the election result because it depreciates the US dollar. The Nigerian naira has lost a lot of value because of the high exchange rate - it has Made life extremely difficult for people, "he writes on the DW Hausa editorial team's Facebook page.
Concern about economic cooperation
Experts disagree on whether Trump's victory will lead to a new US Africa policy. Trump's announcement to put America's interests first could mean the end of American business initiatives such as the African Growth and Opportunity Act (AGOA). The program gives African producers easier access to the American market. The "Power Africa" ​​project initiated by President Barack Obama for a better power supply on the African continent could also be in danger.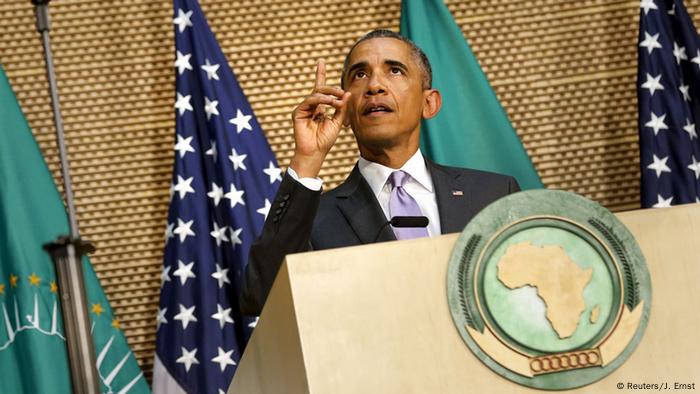 Barack Obama tried to maintain good relations with Africa. What strategy is his successor pursuing?
"Trump's victory is a big disappointment for Kenya and all of Africa," says Kenyan student Naftali Mwaura. Because Trump relies on protectionism and does not believe in the trade agreements with African states. "Africa is absolutely not a priority for him."
It doesn't all depend on America
Yakob Arsano, political scientist at the University of Addis Ababa in Ethiopia, is nevertheless confident: "America has an established political system that cannot simply be influenced by a single president."
Africa shouldn't look too closely at the balance of power in the USA, is also the opinion of many Ethiopians who comment on the Facebook page of DW's Amharic program: "African affairs should not be defined by US politics," writes AbdulAziz Geletu from Addis Ababa: "The struggle for the independence of Africa should be waged by ourselves. We shouldn't expect that from the US. "
Collaboration: Subry Govender (Durban), Andrew Wasike (Nairobi), Coletta Wanjohi (Addis Ababa)